Write On Door County Health & Healing Conference Event!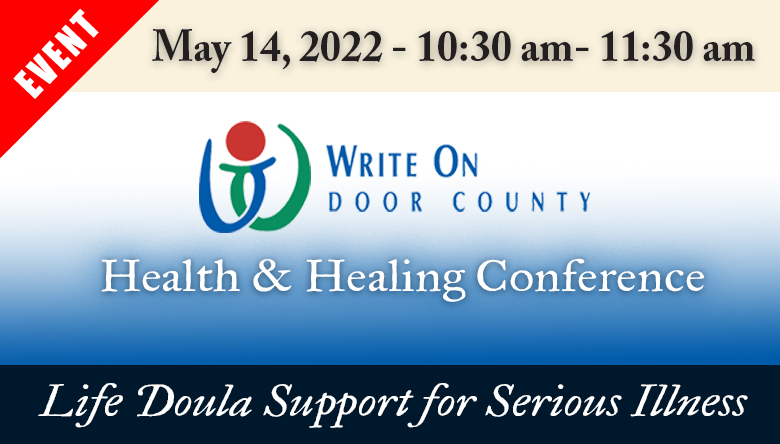 WHEN:
Saturday, May 14th
10:30 pm – 11:30 pm
WHERE:
Write On, Door County
4210 Juddville Road, Fish Creek, WI 54212
FACILITATED BY:
Marggie Moertl
INVESTMENT:
Day or weekend passes available. See conference webpage for current pricing. 
To register: Please visit the Write On Door County Health & Healing Conference page
---
The role of a non-medical Life Doula is to offer holistic support to clients in their loved ones. How this is shared with clients rises from the unique needs of each situation, and where their own creative self leads. Marggie Hatala Moertl will share her experiences with clients facing serious illness and explain her work in more depth. She will talk about each person's needs for life review and to find closure as serious illness causes us to realize our own mortality. As an author and inner life coach, Marggie naturally includes a variety of writing exercises. These are often combined with body/mind/spirit exercises to help open the client or loved ones to their deepest self. In this session, the group will participate in a writing session designed to demonstrate one of these very meaningful exercises. 
This powerful conference has a wide variety of artists that will share their expertise within the healing world, and using the written word to facilitate this! Register today!