Life, Death, and the Afterlife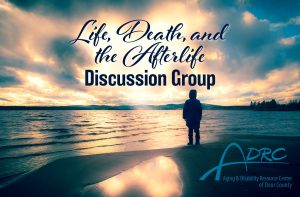 WHEN:
Third Thursday Monthly
1:00 pm – 2:30pm
WHERE:
ADRC of Door County
916 N. 14th Ave, Sturgeon Bay WI 54235
FACILITATED BY:
Marggie Moertl
INVESTMENT:
This is a free, community event but registration is required.
To register: Contact the ADRC of Door County at 920-746-2372
---
Marggie Moertl of Embrace Your Inner Self LLC will join Steve Freier, writer for The Inner Voice Magazine, to host a monthly community discussion group at the ADRC, Sturgeon Bay. Their shared passion for leading our community away from the fear of death and towards an acceptance of death as a natural part of life has joined them in this effort. This is the second of a well-received monthly discussion.
They will open the meeting with an invitation to all participants to discuss concerns, questions, or feelings about life, death, and the afterlife. Their combined extensive knowledge and experience with this topic will provide a springboard into the discussion. This is a discussion group and all beliefs are welcomed and respected.