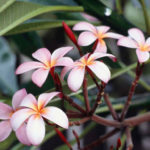 Trusting the Process
Allowing life to unfold in it's own way
My presentation last week to the residents of a local assisted living facility was delightful, and I left feeling filled from the experience. In addressing a group that could teach me many things about accepting our mortality, the conversation enriched me and left me thinking ever more deeply about what the underlying message really is.
As we age, death becomes a more present reality to us. Add to that the loss of a spouse, or other close loved one, and the reality of our limited time  here becomes more and more keen. Yet along with that comes an acceptance that we will each leave in our own time. I enjoy working with people at this stage of life, especially when they are as lively as this group was. And it allowed me to go much further into the conversation of life after death than I usually do. As with each time spent sharing such as this, I have pondered it for this past week.
Thank you, to this great group!