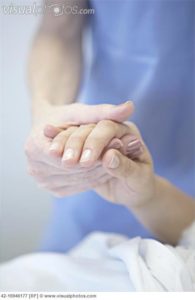 Our Touch, Our Light
Love through touch
I have been away from my hospice nursing job for several weeks, since I changed my status to working less regularly.  It's been a transformative few weeks, and I look forward to focusing on my end-of-life consultation more fully. But I did work this last weekend, venturing out to see our patients in various living situations throughout our service area. It was bitter cold; subzero temperatures had immediately followed the first heavy snowfall in over a month.  As my tires passed the many miles, the snow groaned beneath them.  On this early Sunday morning, I watched the sun begin to glow. I found myself reflecting on the care our team provides as I reconnected with patients and coworkers throughout my day.   I was greeted warmly at each home, and made my visits alongside several of our CNA's (Certified Nursing Assistants).
I always value each member of our team, and our unique roles that we provide.  But on this cold, almost eerie morning, I was blessed to assist with the very intimate and personal care that the CNAs were giving.  I marvel at the competency they use, lovingly turning those that are very near death.  I watched while they swiftly and carefully provided skin care and positioning while teaching and supporting the family members that knew them very well.
As an RN, I form my own professional and close relationships with these families.  My role brings an intimacy of its own, and I incorporate my loving presence of healing as a Reiki Master.  But assisting my teammates this weekend, I felt their love pouring through the care and concern they provide.  It appears to be a natural outpouring from deep within these CNAs, and the patients and family members respond to it. Their role often makes them the face of hospice, and the incredible group of CNAs that I am blessed to work with,  make all of our lives richer each day.