The Forces of Nature
Spiritual truths found in nature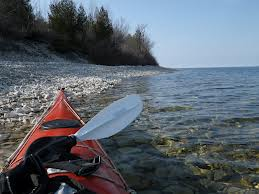 There has been a lot of news coverage this week of the kayak rescue here in our beautiful Door County WI.  Lake Michigan is a force unto herself, and one I watch closely.
After living along the shores of Lake Superior, I have a deep respect for these lakes and their power.  The clear, cold waters of that lake insisted on respect; the waves pound in the winds and a person would not last long in the chilly waters.  I so loved that powerful lake, and continue to seek her mysteries that she whispers with each lap of her waves.  Such raw nature is a spritual treasure and deep inner knowing comes with each encounter.
Now that we are back in Wisconsin, along the lake that I knew from birth, I feel this same reasonance.  A different power, perhaps not as fierce, but more veiled. Lake Michigan entices water sports, beckons us to explore her territories.  Yet she is fickle and will change in a heartbeat, and we must not forget this changeable nature as we tour.
I love the water;  I love the sounds, smells, sensations of the shoreline.  I love being out on the water, the unique vision of rugged terrain from the water.  But only when I know I am prepared and with others of experience. I smile as I realize my surrender to a power much greater than I.